Covid Pandemic has affected the life of billions around the world in some way or another.
Currently, India is going through a massive spike of Covid 19 cases and deaths. As of 9th May 2021, India saw more than 4 lakh cases and more than 4000 deaths in just the last 24 hours.
Under these critical conditions, we invite you to join our hands in serving the people of India. Last year, the International Society for Krishna Consciousness (ISKCON) distributed more than 4,00,00,000 plates of healthy vegetarian nutritious Krishna prasadam.
In this second wave, ISKCON worldwide has been distributing lakhs of plates of prasadam to the afflicted families on the daily basis..
There are challenges to cook at home when someone (esp the person who cooks) gets ill. Mostly the situation turns into the entire family becoming sick. Under the circumstances it is a very tough challenge for the many families to arrange food for even one time a day. There are students/working professionals as well from other states who are living alone in Delhi and are facing the problems.
We at ISKCON Punjabi Bagh are currently distributing more than 800 plates of prasadam, free of cost, at the doorsteps of the families within 10km range of the temple.
To Book call helpline number: 9999197259 (between 10 am to 7 pm) Kindly Provide COVID report when asked.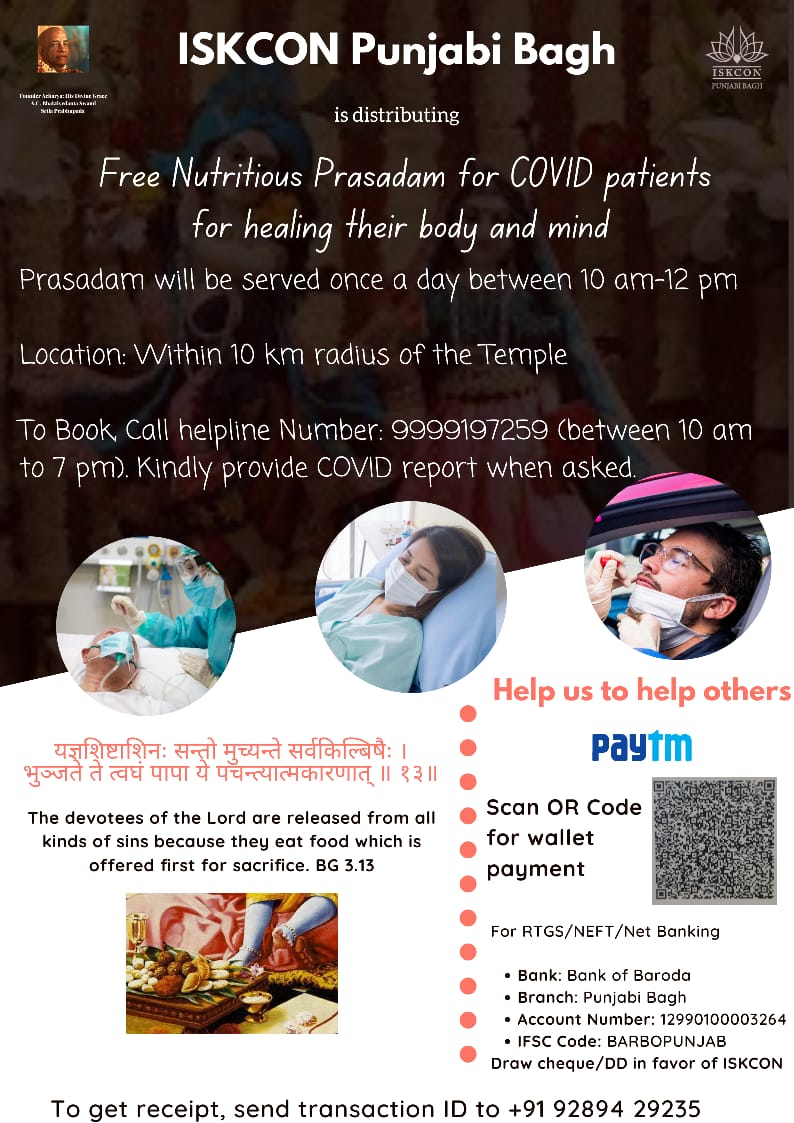 HELP US TO HELP OTHERS
We invite (or rather urge) you to be a part of this humble service to the needy ones by making a donation towards this cause.
The distribution of Krishna Prasadam (sanctified food offered in love and devotion to Krishna) has been the part of our tradition since time immemorial and is considered one of the greatest act of charity.
Scan QR Code for wallet payment
For RTGS/NEFT/Net Banking
Bank:

Bank of Baroda
Branch:

Punjabi Bagh
Account Number:

12990100003264
IFSC Code:

BARBOPUNJAB
Draw cheque/DD in favor of
ISKCON
To get receipt, send transaction ID to +91 9289429235

HELPING HAND OF ISKCON PUNJABI BAGH