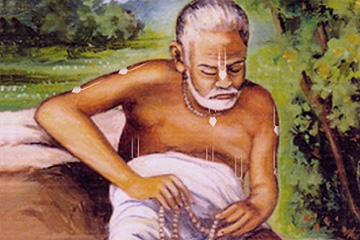 "I offer my respectful obeisances unto Sri Jagannatha dasa Babaji Maharaja, who is respected by the entire Vaisnava community and who discovered the place where Lord Caitanya appeared."
Sri Jagannatha Dasa Babaji Maharaja was born was born around the year 1800 AD.
in the Mayamansingh district of West Bengal. Not much is known about his ealry life. Gaudiya Vedanta-acharya Sri Baladeva Vidyabhushana had a disciple named Uddhava das. His disciple was Sri Madhusudana Dasa Babaji who lived in Suryakunda and it was from Madhusudana Dasa Babaji that Jagannatha Dasa Babaji Maharaja took initiation.