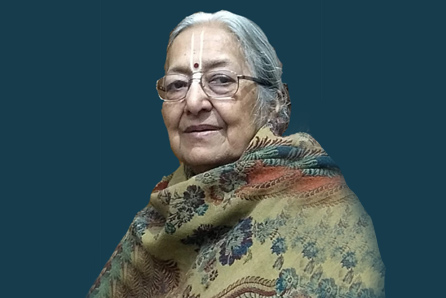 "Glorification of Her Grace Krishnangi Mataji by His Holiness Gopal Krishna Goswami Maharaja in her memorial program"
I was not aware of the glorification program till an hour ago. This is my brief glorification of this outstanding disciple.
Krishnangi Mataji was a very dedicated Vaishnavi. She and her late husband-Gangadas were both dedicated devotees. I remember that they were working in the home ministry when they joined ISKCON. They were preached by the late Krishna Gopal Prabhu, who was working in the home ministry in delhi.
Initially when they joined they used to come to the temple only on holidays. After their retirement from Goverment service they both got involved in full time devotional service and both moved near the temple and started full time devotional service. Krishnangi was a very humble Vaishnavi. She was more like a mother to all devotees. She would come everyday to the temple for years . She would come every morning and make my breakfast when I was in delhi. She was very respectful to all the devotees. I don't think there is any devotee who found fault in her behaviour.
She was always very dedicated. She was always humble and respectful. She was attached to the holy name and she also used to do kirtan in the temple hall. She became weak with the passage of time but she continued to serve till her last breath. After her husband's departure she moved to vrindavan to stay with her son. She would be remembered as an outstanding devotee. She was also a dedicated preacher and a well wisher of all devotees. She also used to give regular lectures. She has a great fortune of leaving her body in vrindavan dham.
I am sure that she was protected by the supreme lord. Everyone has to leave this body. But one who has performed pure devotional service has nothing to lament. I will no doubt miss her association but I will not lament for her departure. She was always Krishna conscious and dependent on the supreme lord. Krishna knows what is best for each one of us.
Gopal Krishna Goswami