The Supreme Lord Sri Krishna appeared on the earth 5203 years ago. His appearance in this world is remembered & celebrated as the Janmashtami festival.
"One who knows the transcendental nature of My appearance and activities does not, upon leaving the body, takes his birth again in this material world, but attains My eternal abode.O Arjuna"
– Bhagavad-gita 4.9
Please check this area for detailed programs.
Temple Schedule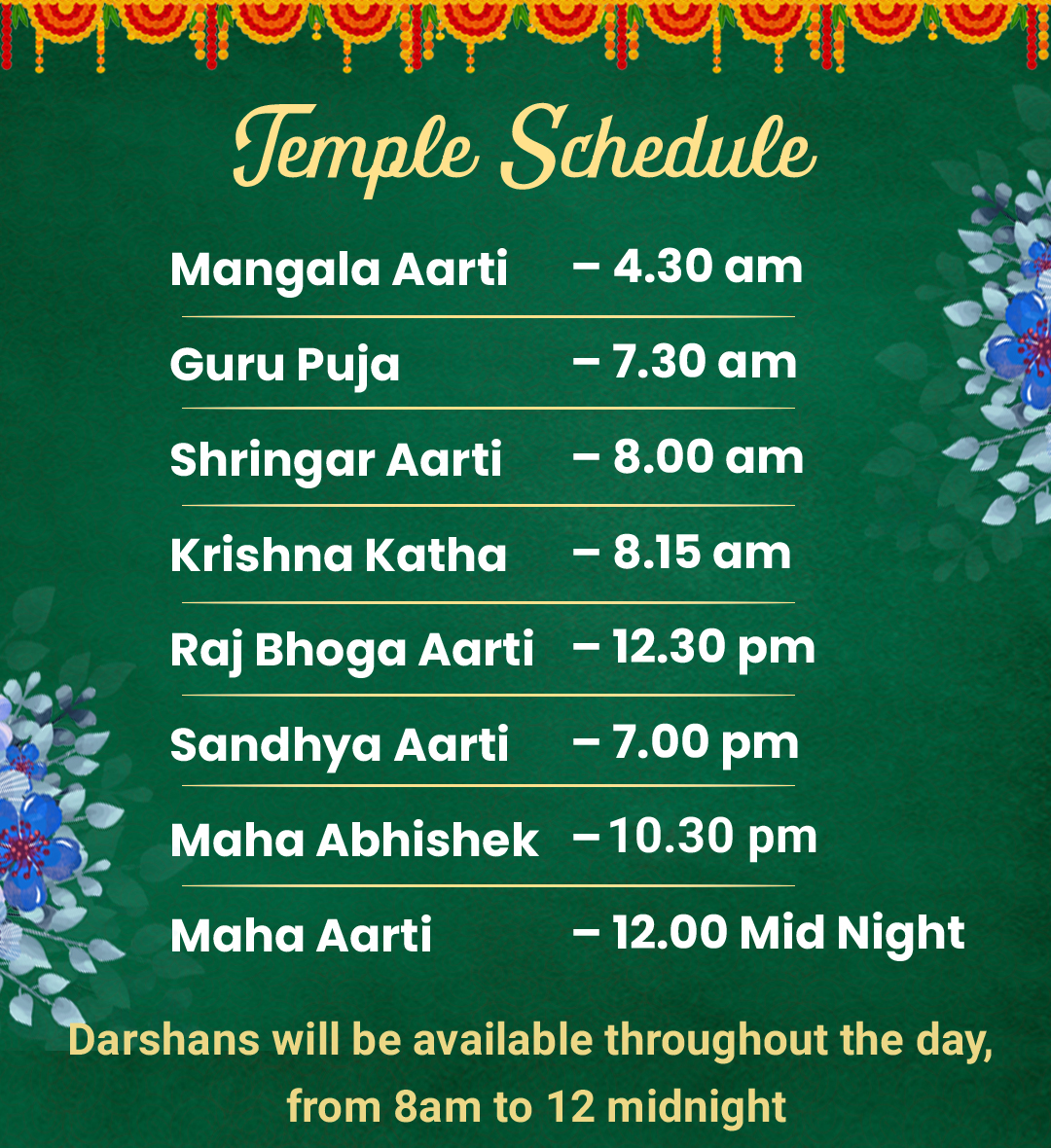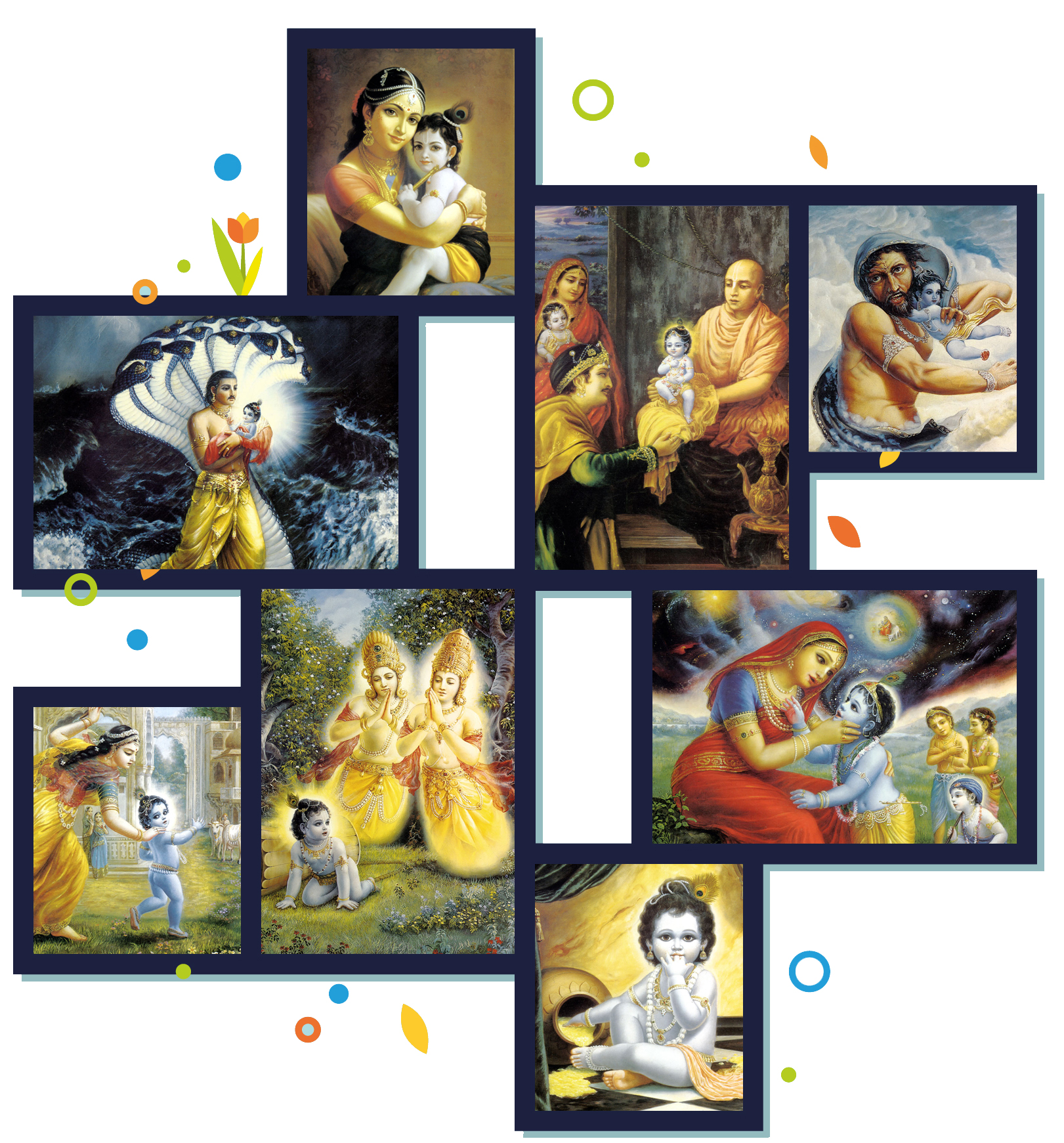 What's happening at ISKCON Punjabi Bagh this Janmastami?
1. Special sringar and blissful Darshans: Celebrations will start early morning with first darshans at 4.30am, then darshans will be closed after mangal Aarti. There will be special sringar and darshans will reopen at 8am.
Darshans will remain open till 12 midnight.
2. 24 hrs KIRTANS: The most blissful and absorbing part of this festival are the soul stirring Kirtans. We invite you all to be a part of it.
3. PALKI KIRTAN: Enchanting kirtan will infuse the entire lawn and make an auspicious beginning to this festival. Starting from 5.30pm till 7.00pm. We invite you all to be a part of it.
4. STAGE PROGRAM: Events start unfolding as we celebrate the descent of Lord Krishna. To start:
a) Hare Krishna Sunday School: Young minds with vibrant energy present their innovative offering to the Lord on this auspicious day which commences at 7pm. We invite you all to be a part of it.
b) Bharatnatyam: If you wish to see poetry in motion with rhythmic movements and expressions with a spirit of absolute devotion, then do not forget to join us for this spectacular performance at 7.45pm.
c) Drama: Out of the unlimited pastimes of the Lord, here is a short and yet jaw dropping drama performance bysome of the most agile and expert actors from our community. If you really do not want to say 'oh! I missed it ', then do remember to be seated by 8.00pm.
d) Laser Show: Absorb and indulge your senses in this engrossing Laser show, at 9.00 pm onwards. All we can say is that you would ask it to be continued more.
5. KRISHNA AKARSHINI: This section of Janmashtami festival, is not only informative but also loaded with fun n entertainment. Save the date and spread it amongst your family n friends.
6. KRISHNA ASWADANAM: Fasting or no fasting this court has all to satiate your taste buds. Indian or continental or fast food cuisine will be there to this day joyous for you. Do join us in large numbers.
7. Abhishek of Sri Radhikaraman: A site worth beholding is when our dear Lordships are bathed using various paraphernalia. Time is 11pm and make sure to be with us.
8. KIDS CORNER: A corner especially curated for kids to engage them in some funny yet challenging games. So make sure that you turn out in large alongwith your 'baccha party'.
9. JHULAN: Welcome 'the little blue boy' by making him swing on a royal Jhula. This endless joy is absolutely unsurpassable and surely not of this world.
10. PRASADAM DISTRIBUTION: Krishna's mercy. This mercy is distributed throughout the day to all visitors.
11. BHOGA OFFERING & MIDNIGHT AARTI: Here comes the final moment to welcome the Lord in our heart. A real treat for the soul begins at 12 midnight.